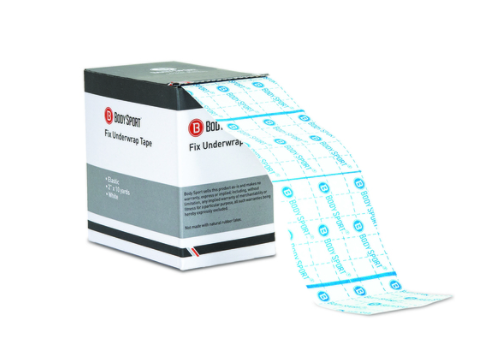 Body Sport®
Body Sport® Fix Underwrap Tape
Item # ZZT3422I10Y
Compression without Constriction
Offer reliable, secure coverage with BodySport® Fix Underwrap Tape. This deluxe tape is designed to cover small-to-large dressings on areas of the body that need compression without constriction so movement is unimpeded.
Additional Benefits & Features
For small-to-large dressings
Provides compression without constriction
Made of stretchable, non-woven polyester material
Conforms to body contours
Polyacrylate adhesive holds even when wet
Color: White
Size: 2" x 10 yd.
Quality Made
Made to endure, this tape is made of stretchable, non-woven polyester material that conforms to body contours.
Reliable Hold
The BodySport Fix Underwrap Tape features a polyacrylate adhesive that holds the dressing safely and reliably in place even when wet.

---
Share this Product