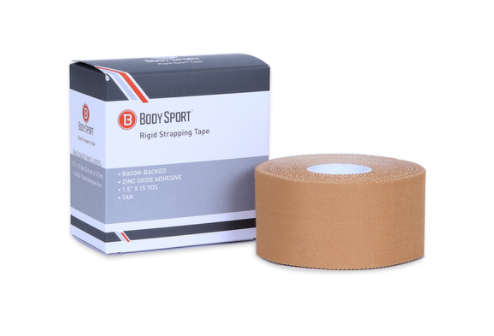 Body Sport®
Body Sport® Rigid Strapping Tape
Item # ZZT336
Superior Protection & Support
Provide joint stability and support fast with best-in-class BodySport® Rigid Strapping Tape. Its durable design helps stabilize without affecting circulation or range of motion, so users can stay mobile and active.
Quality Made
Rayon-backed, this unique sports tape is a heavy-duty strapping with a zinc oxide adhesive that holds tight even when wet.
Reduce Discomfort
In addition to support and stability, this rigid tape can also be effective in helping to reduce discomfort when taping shoulders or knees.
Additional Benefits & Features
Provides joint support and stability
Does not affect circulation or range of motion
Helps reduce discomfort when taping shoulders or knees
Rayon-backed
Heavy-duty strapping with a zinc oxide adhesive
Color: Tan
1.5"" x 15 yd
---
Share this Product